Visiting to Nomadic Family and Horseriding
Visiting to Nomadic Family and Horseriding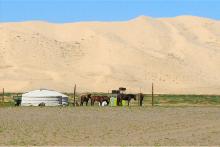 Would you participate in traditional nomadic lifestyle? If you do this tour you will know Mongolian nomadic lifestyle such as:
Producing dairy products.
Milking cow, mare and ewe.
Break in a horse.
Catch a horse with a long rod ...etc.
Horse ridding.
Live at Mongolian Ger.
Taste Mongolian milk vodka, fermented milk of mare's name is "Airag" and dairy products such as butter, cheese yoghurt ....etc by traditional method. Stay in Mongolian ger and try Mongolian foods. Let's enjoy under blue sky and in unspoiled beautiful nature.
Nomadic Family Tour
Region: Central Mongolia
Tour Interesting sites: Erdene Zuu Monastery, Kharkhorin ancient capital city, Elsen-tasarkhai ( semi-desert), Hustai NP, Local family.
Length of tour: 3 nights / 4 days
Distance: about 1300 km
Day 1
Drive to Kharkhorin, the ancient capital of the Mongolian Empire in the 13th century and "Erdene zuu" Monastery.Late afternoon arrive in Kharkhorin city. Dinner and overnight at ger guesthouse.
Day 2
After breakfast visit magnificent Erdene Zuu Monastery built on the ruins of the KharKhorin in 1586,was the first Buddhist center in Mongolia. The temples contain a valuable collection of Buddhist sculptures, artwork and books.And then drive to Local family. Experience the real nomadic life, horse riding. Milking cows and goats. Overnight at ger guesthouse. Hiking and horse riding are available. Overnigt at Local family
Day 3
After breakfast drive back to the semi-desert which is a narrow sand dune lays about 90km long. Perfect place for hiking and camel riding. Overnight at ger guesthouse.
Day 4
Drive to UB. On the way stopover and take some photos at Khustai National Park. Late afternoon come to UB. Dinner and stay at LG Hostel.
Tour cost:
1 person - US $540
2 people - US $840 ( each $420)
3 people - US $1140 ( each $380 )
4 people - US $1360 ( each $340 )
More than 4 people the cost is same each 310$
Services included in the cost:
Shared accommodation in Ger guesthouse or in tents
All meals during the trip
A car with driver and petrol
English speaking guide
All entrance fees
 Services NOT included in the cost:
Optional activity costs
Horse and camel riding
Travel insurance
Room prices at LG Hostel