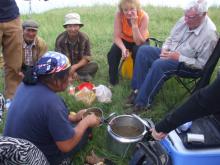 Travel Mongolia with LG!
This is a great opportunity to see one of the most fabulous parts of Mongolia at an amazingly low prices by travelling with "Lundaa Ganzaga" Co.,Ltd in 2013 !
We are a tour operator with 13 years experiences and the biggest guesthouse in Ulaanbaatar. We offer high quality service, accommodations and tours for budget travelers and backpackers.
Let's travel the Gobi desert and the Mongolian Steppe with us, where the place and the scenery are completely different! Walk the billowing dunes of the desert and sleep in the gers that have, for a thousand years been home for the warrior and the nomad. The land where you can camp where you like, when you like, without fear.
A harsh but gentle land with calm and friendly people. Our desire is to give you an experience you will never forget! Scenes that will keep your camera to your eye. Experience that will amaze everyone at home when you return. From the capital Ulaanbaatar to the towns of the mountains and desert.
In Mongolia, you will have no diffulties when you travel with us !