Gobi tour 3 - Bayan Zag, Yolyn am (Dinosaur's bones and eggs, Canyon of Eagle)
Gobi tour 3 - Bayan Zag, Yolyn am (Dinosaur's bones and eggs, Canyon of Eagle)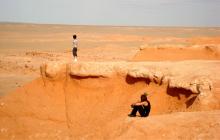 Bayan Zag is located near of Bulgan sum, and archeological finds of the Palaeolithic Era were found here. Bayan Zag is internationally famous for dinosaurs remains complete dinosaur skeletons, eggs and hatchling, of the Cretaceous Period. Dinosaurs discovered here include: Protocerators ( first horned dinosaur ), Oviraptor ( RFF - thief) and heavily armoured Pinacosaurus. Dinosaur eggs with a diameter of 10 -15 centimeters were found here in Mongolia for the first time in the world.
Yolyn Am (Canyon of Eagle)
It is narrow canyon of a river. The gorge has sheer rock walls with a height of about 200 metres in central part. It has been protected since 1965 and has area of 70 square kilometres. Today it is a Strictly Protected Area. The rain which falls at the summit of the moutain flows down into the sheer canyon forming the four waterfalls. It is enjoyable to watch the waterfalls streaming over the rim in the winter.Only 2 people can pass in the most narrow part. Despite the sunshine, the place is quite dark. If you see the sky, it is only as a narrow line.
Interesting sites: Baga gazriin chuluu,Tsagaan Suvraga,Yolyn Am, and Bayan Zag
Length of tour: 6 nights / 7 days
Distance: 2000 km
Day 1
After breakfast drive to " Baga Gazriin chuluu" in Middle Gobi.Lunch picnic. Overnight in tents or ger guesthouse.
Day 2
After breakfast drive to "Tsagaan Suvraga".On the way visit "Sum Khukh Burd" / an oasis / .Lunch at Luus town. Reach in " Tsagaan Suvraga" via "Luus" small town. Overnight in tents or ger guesthouse.
Day 3
Continue trip to"Yolyn Am"( Eagle Valley).Lunch at Dalanzadgad on the way. Overnight in tents or ger guesthouse. Next morning a full day hiking in Yolyn-Am. Horse riding and camel riding are possible. Or you can do a horse riding along the canyon.
Day 4
Drive to back to the Bayan Zag, which is home of the dinosaurs. Lunch at tourist camp or ger guesthouse in Bayan Zag. Overnight in tents or ger guesthouse there.
Day 5
Head to "Ongi" river and "Ongi" Monastery ruins. Lunch and overnight at ger guesthouse. Hiking and exploring the surrounding beautiful nature.
Day 6
Drive to the "Zorgol Khairhan"-a sacred beautiful Mountain. On the way visit Sangyn Dalai Monastery in Erdenedalai town. Overnight in tents near the Mountain.
Day 7
Arrive in UB in the afternoon . Overnight at LG guesthouse.
Tour cost:
2 people - US $1470 ( each $735)
3 people - US $1995 ( each $665 )
4 people - US $2380 ( each $595 )
More than 4 people the cost is same each 580$
Services included in the cost:
Shared accommodation in Ger guesthouse or in tents
All meals during the trip
A Car with driver and petrol
English speaking guide
All entrance fees
 Services NOT included in the cost:
Optional activity costs
Horse and camel riding
Travel insurance
Room prices at LG Hostel