Gobi tour 2 - Khongoryn Els (Huge Sand Dune and Oasis)
Gobi tour 2 - Khongoryn Els (Huge Sand Dune and Oasis)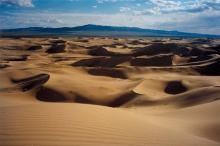 Khongoriin Els has an extraordinary length of 180 kilometers and 15 – 20 meters wide lies on the Northern part of the Mountains of Servee and Zuulen. The huge sand dune is part of the dessert zone 2.7% of the country's territory. There is an Oasis near Khongor Els at the Northern edge of the sand dune.
Region: Middlegobi and Southgobi
Interesting sites: Tsagaan suvraga, Yolyn Am, Bayan Zag ang Hongoryn Els.
Length of tour: 7 nights / 8 days
Distance: about 2000km
Day 1
After breakfast drive to"Baga Gazryn chuluu" in Middle Gobi. Overnight at traditional ger guesthouse.
Day 2
After breakfast trip to "Tsagaan Suvraga".On the way visit "Sum Khukh Burd" / an oasis / and a ruin of an ancient temple. Reach in " Tsagaan Suvraga" via "Luus" a small town. Overnight at ger guesthouse.
Day 3
Continue trip to "Eagle Valley" National Park, / Yolyn Am/ and visit icy canyon. Hiking in a long narrow valley for all day.Lunch picnic in the NP. Horse and camel riding available.If you are lucky you will see wild animals. Overnight at ger guesthouse.
Day 4
Next morning to "Khongor" Sand Dune. Scenery is beautiful. Overnight at ger guesthouse.Exploring and relaxing in surrounding area. /If you want you can stay one more day here. /
Day 5
Drive to back direction to the Bayan Zag, which is home of the dinosaurs. Overnight at ger guesthouse.
Day 6
Travel to the Ongi river And Ongyn Khiid- ruins of the Temple. Overnight at ger guesthouse.
Day 7
Drive to the "Zorgol Khairhan" – a sacred Mountain. Overnight in tents or ger guesthouse.
Day 8
Arrive in UB in the evening. Overnight at LG guesthouse.
Tour cost:
2 people - US $1680 ( each $840 )
3 people - US $2280 ( each $760 )
4 people - US $2816 ( each $704 )
More than 4 people the cost is same each 690$
Services included in the cost:
Shared accommodation in Ger guesthouse or in tents
All meals during the trip
Car with driver and petrol
English speaking guide
All entrance fees
 Services NOT included in the cost:
Optional activity costs
Horse and camel riding
Travel insurance
Room prices at LG Hostel