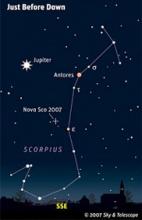 Only our company arrange this tour in Mongolia.
Itinerary : Ulanbaatar - Ulaanbaatar Astronomical Observatory (UAO) - Ulaanbaatar
Distance : 25 km
Duration : A Day Drive to UAO Center of Mongolia in the Strictly Protected Mountain " Bogd Khaan ". We offer to tourists the following services: watching the Planets of the Solar system, the Moon and stars by the telescope. In addition to this we can offer you an exciting hiking to " Tulga tsokhio", " Camel rock" Tsetsee gun" which is the peak of the Bogd Khaan Mountain – was worshipped by saint Bogd who was the last king and the religion leader of Mongolia.
Map courtesy of Sky & Telescope On February 4 a nova appeared in Scorpius, which in the pre-dawn now looms just about the eastern flanks of Bogd Khan Uul, the big mountain south of Ulaan Baatar.
The best place to watch the stars in Mongolia is Khureltogoot Observatory. It was built during the Russian era.
Activities: Tour departs from LG Guesthouse at 9:00 pm and Observing the night sky with the aid of observatory's powerful telescope. ( Please bring water and some snacks).
Tour cost:
1 person: US$50
2 people: US$55 (each 33000T)
3 people: US$60 (each 24000T)
4 people: US$65 (each 19500T)
This price includes:
Entrance fees, Occasional lecture on the stars and phenomena, Equipment usage fees for star watching, Round trip transportation from LG hostel to Khureltogoot Observatory and back.